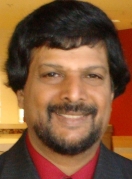 Suresh Canagarajah
Department of Applied Linguistics, Pennsylvania State University
Keynote: "Diversifying Multilingualism"
I will discuss how situating verbal resources in spatiotemporal
context changes the way we consider communicative competence.
Diverse other semiotic resources will become important for communication
beyond languages. Such a move will involve rethinking the structuralist legacy in linguistics that treated language as an autonomous system with labeled languages treated as separated from each other. There are significant shifts for pedagogy when we further diversify the multilingual orientation thus. After outlining such pedagogical shifts, I will also articulate the implications for
policy where nation-states emphasize proficiency in host nation languages
for migrants in order to enable social integration and professional success. I will argue that a view of language as embedded in diverse semiotic resources would suggest that migrants can make substantial social and professional contributions through the rich semiotic resources they bring with them.
Short bio:
Suresh Canagarajah is the Edwin Erle Sparks Professor and Director of the Migration Studies Project at Pennsylvania State University. He teaches World Englishes, Second Language Writing, and Postcolonial Studies in the departments of English and Applied Linguistics. His early education and teaching was in the war-torn region of Jaffna, Sri Lanka. He has taught before in the University of Jaffna and the City University of New York. His book Resisting Linguistic Imperialism in English Teaching (OUP, 1999) won Modern Language Association's Mina Shaughnessy Award for the best research publication on the teaching of language and literacy. His subsequent publication Geopolitics of Academic Writing (UPittsburgh Press 2002) won the Gary Olson Award for the best book in social and rhetorical theory. His study of World Englishes in writing pedagogy won the 2007 Braddock Award for the best article in the College Composition and Communication journal. His most recent publication is Translingual Practice: Global Englishes and Cosmopolitan Relations (Routledge, 2013), which won the 2014 BAAL best book award and MLA's Mina Shaughnessy Award. He is a former editor of TESOL Quarterly and a past President of the American Association of Applied Linguistics.
A short statement on multilingualism:
I prefer the term "translingual" because the prefix reminds us that communication transcends individual languages, and goes beyond language itself to include diverse modalities and semiotic systems. The translingual orientation perceives a synergy between languages which generates new grammars and meanings. The term "multilingualism" has been traditionally conceived as multiple languages enjoying their separate identity and structure even in contact. Therefore, some scholars refer to this orientation in pejorative terms as "parallel monolingualisms" (Heller) or "two solitudes" (Cummins). In translingualism diversity is the norm, with speakers bringing different semiotic resources to the same interaction. In order for communication to succeed despite this diversity, interlocutors adopt situated negotiation strategies.
University of Vienna
Universitätsring 1
1010 Wien